1 December, 2015
Task Mistress
As of today, Martha Stewart is my life coach.
It's been a few months coming— sometime last year, I started watching Martha Bakes on PBS:Create whenever I'd come home from the coast; then in June when I moved back home full-time, I'd catch an old bit or two of Martha Stewart Living on YouTube, just to make sure I was doing the right thing in my garden, y'know?; as the mid-summer rains came and my personal depression swelled, those bits turned into marathons, episode after episode, spending all day watching Martha Living while I was doing anything but; but the depression waxes and wanes, and as it subsided in the later-late summer (summer is long in Texas), I ran out of Living reruns to watch and finally got off the couch; I was in better spirits, but now there was a void where her Domestic Highness had been— I was happier, yes, but once you know the pull of puff pastry recipes and other Good Things, you can't just cut Martha out of your life cold turkey (also, look at what she can do with cold turkey; she's a goddamn icon, you shut your mouth!) and so finally sometime near the end of summer, I bit the bullet and got a two-year subscription to Martha Stewart Living magazine (sharing space in the mailbox with BH&G, natch). And though I'm usually a very careful reader of magazines, there's one feature that I'd somehow managed to miss until now.
You see, near the front of each issue of Martha Stewart Living, there's a calendar that tells us everything Martha is doing that month:

December 2: Gutter cleaning
December 3: Art Basel, Miami Beach; yoga
December 11: Christmas tree arrives; weight training
December 16: Friend Jane Heller's birthday; Mail holiday cards
December 27: Wash table linens; Leave for vacation
And so on, and so forth, each and every day filled with notes about what's going on, what needs to be done around the house, how to socialize appropriately, what g-d- exercise to do. It has everything I need. After years of trying every kind of schedule keeper and life coach imaginable– pomodoros to keep me from procrastinating, FitBit to keep me moving, Excel sheets of to-do lists, a bulletin board of the same once I realized that every time I sat down to check the Excel sheet to see what was on the to-do list I'd get lost checking Tumblr, Google alerts telling me it was Laundry Day, Dish Day, Craft Day, Writing Day, TuesDay, and goddamn phone alarms going off every 40 minutes, reminding me to Get Up! Do Something Different! Clean The House! Stretch Those Bones! Write! Eat! Breathe!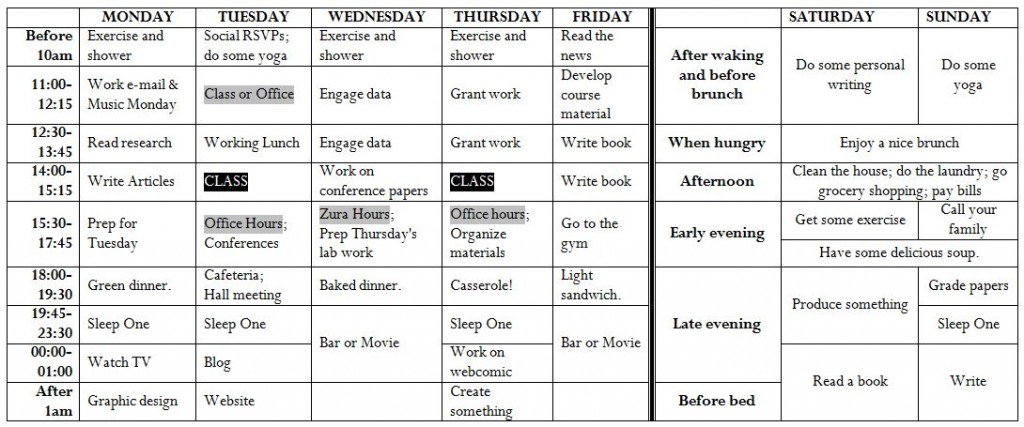 But none of it worked. No matter how elaborately color-coded and time-synced my Idealized Task Space was, it always fell apart only days (sometimes just hours) after it started. But this time it's different. This time, I'm putting my trust in Martha. And while I don't need to know when it's "Friend Susan's birthday" (Dec. 14) or "Colleague Darcy's birthday" (Dec. 17) or even "Kevin Sharkey's birthday" (Dec. 18– who is this Kevin Sharkey? Not a friend, not a colleague, just a name… Oh, Martha, you have so many secrets!), I'm choosing to trust Martha on everything else. Tomorrow, I'll be cleaning the gutters (Dec. 2), Thursday I'll be going to yoga, and on Friday I'm taking decorations out of storage and doing weight training. I'm even going on vacation when Martha does, just so our calendars stay in sync (Dec. 27 – Jan. 2; I'll be in Cancún if you need me).
So wish me luck— not luck on sticking to the schedule, I'll totally keep to the schedule this time, this is Martha's schedule and she is perfect— no, I need luck on finding a horse. Apparently, on December 13, 21, and 26, I'm going horseback riding.