I'm a writer— short fiction and non-fictiony essayish stuff on linguistics, digital humanities, and queer identity, mostly. Check out the links in the menu bar up top, or poke around the archives in the table below. Overall, my stuff is mostly PG-13, but sometimes gets more adult in both themes and language.
Thanks for stopping by! And sign up for my newsletter, below!
"It's a new dawn, it's a new day, it's a new life for me. And I'm feeling good."
---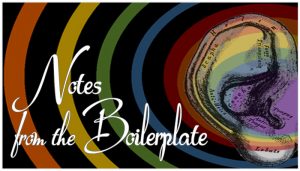 Subscribe to the newsletter for updates & special stuff!

(Your email address won't be sold, won't be used for any nefarious purposes, and the news only comes about once a month.)
If you're looking for my professional services, please contract with Boilerplate Digital.If you're looking for my latest books and games, check out my author page on Boilerplate Media. Thanks!
---